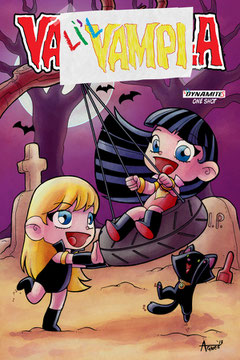 At New York Comic Con, Dynamite Entertainment recently announced a slate of new one-shot comics, to be released in celebration of the company's anniversary. 
Each of those one-shots is an all-ages/young readers version of a popular Dynamite property—Battlestar Galactica, The Bionic Man, Red Sonja, among others. 
One such "other" is Li'l Vampi, which I'm pleased to reveal is a project I got to write. I'd been suggesting an all ages Vampirella line to Dynamite almost since the relaunch of the property a couple years ago, and it seems my endless ranting to my editors did not escape notice. 
The cartoonist, Agnes Garbowska, has a great take on the characters and some genuine warmth and humor in her illustrations. It should be a lot of fun. 
Here's the skinny: 
LI'L VAMPI'S SPOOKYTIME MONSTER BASH
Written by: Eric Trautmann
Pantha co-feature written by: Brandon Jerwa
Art by: Agnes Garbowska
Cover by; Agnes Garbowska
Welcome to Stoker, Maine, the most normal, boring town in the world… or is it?  
There are sea serpents roaming the docks, a mummy in the town hall, and a gaggle of ghouls and goblins just devoured the breakfast cereal aisle at the local Shop-O-Mart!  What is behind this monstrous rampage, and can it be stopped?  
When there are spooks afoot and arcane mysteries to be solved, it's time for Vampirella, teen scourge of the supernatural, to crack the case!  
The book is currently scheduled to arrive in-store on January 8, 2014.