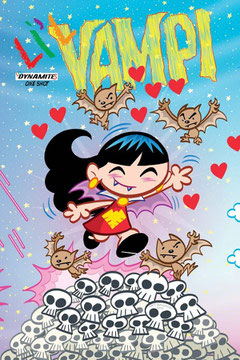 Li'l Vampi, part of Dynamite Entertainment's "Li'l Dynamites"—an upcoming slate of all-ages one shot books based on their various properties—is coming soon (currently scheduled to ship on January 8, 2014, but that is subject to change). 
I've wanted to do an all-ages book for, well, ages, and it was a treat to be invited back to the character. 
Here's the skinny:
LI'L VAMPI (aka LI'L VAMPI'S SPOOKYTIME MONSTER BASH)
Written by: Eric Trautmann (Pantha strip by Brandon & Orion Jerwa)
Art by: Agnes Garbowska
Covers by: Art Baltazar, Agnes Garbowska
Welcome to Stoker, Maine, the most normal, boring town in the world. Or is it?
There are sea serpents roaming the docks, a mummy in the town hall. And a gaggle of ghouls and goblins just devoured the breakfast cereal aisle at the local Shop-O-Mart. Who is behind this monstrous rampage? And can it be stopped?
When there are spooks afoot and arcane mysteries to be solved, it's time for Vampirella—teen scourge of the supernatural—to crack the case! And if that isn't enough, Li'l Vampirella features a two-page activity sheet and a "Pantha" comic strip by Brandon and Orion Jerwa and Agnes Garbowska!
Dynamite Entertainment  |  Color  |  32pg  |  All-ages  |  $3.99US