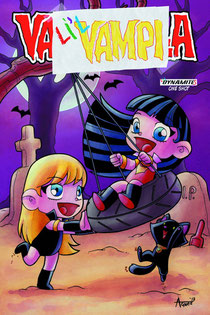 Stalking the misty, shadow-clogged shelves of your local comics shop this very week: Li'l Vampi!  
I've wanted to do a kid-friendly book for a long time, so I was pleased to be invited to pen one of Dynamite Entertainment's "Little Dynamites" one-shots. I'm doubly pleased that the story also includes a Pantha strip penned by my good friend Brandon Jerwa, and his son, Orion. Add to that, Roger Landridge (a cartoonist I've admired for some time; his Muppet Show comic was a thing of beauty) contrinbuting an "activity page" for the end of the issue. In short, this book was tremendous fun to work on. Hope you'll check it out!
Here's the skinny:
LI'L VAMPI (one-shot)
Written by: Eric Trautmann; Pantha co-feature by Brandon and Orion Jerwa
Art by: Agnes Garbowska
Covers by: Agnes Garbowska, Art Baltazar
Activity pages by: Roger Landridge
Welcome to Stoker, Maine, the most normal, boring town in the world. Or is it? There are sea serpents roaming the docks, a mummy in the town hall. And a gaggle of ghouls and goblins just devoured the breakfast cereal aisle at the local Shop-O-Mart. Who is behind this monstrous rampage? And can it be stopped? When there are spooks afoot and arcane mysteries to be solved, it's time for Vampirella-teen scourge of the supernatural-to crack the case! And if that isn't enough, each Li'l book comes with a two-page activity sheet and a "Pantha" comic strip by Brandon and Orion Jerwa and Agnes Garbowska!
Dynamite Entertainment  |  32pg. |  Color  |  All Ages  | $3.99US
Cover gallery and preview: