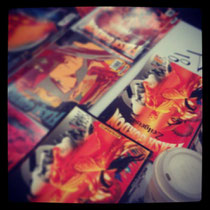 The past weekend I was a guest of the Wizard World show in Portland, Oregon. It was my first Wizard show, so I didn't really know what to expect. Whatever expectations I had were definitely exceeded—the show was busy, and I sold a lot of books, but it wasn't so busy that it wasn't possible to spend a few minutes chatting with attendees. Just a terrific, terrific time. 
It didn't hurt spending time with my friends Greg Rucka and Jen Van Meter, shooting the breeze with Steve Lieber and Kurt Busiek, and a Friday night dinner with my lovely bride at RingSide Steakhouse followed by the Mike Birbiglia performance. (If you're a fan of his comedy, you'll appreciate this: it was almost impossible to find his venue because Seinfeld was playing right across the street. Seinfeld's marquis lighting alone probably required drift compatibility to operate.)
A good weekend. If I met you at the show, thank you so much for stopping by and making the convention an exceedingly pleasant experience.