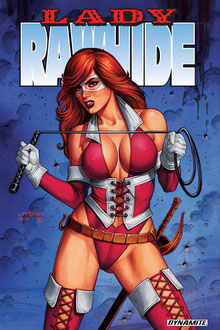 The trade paperback collecting my five issue Lady Rawhide series, "Sisters of the White Rose" hits stores today. 
Lady Rawhide, for those who don't know, is a character set in the same "universe" as the classic hero, Zorro.
Anita Santiago's brother—mistakenly identified as Zorro—is maimed and blinded. 
Angered at the corrupt soldiers who hurt her brother, Anita dons the masked identity Lady Rawhide, both to avenge the assault on her family and to make life difficult for Zorro, whom she also blames for her brother's fate. 
Created in the 1990s by Don McGregor and Mike Mayhew, Lady Rawhide was a popular spinoff of their Zorro line, one I was fond of. So, I was pleased when Dynamite asked me if I wanted to relaunch the character as part of their Zorro line. 
There's a long-unfinished, McGregor-penned Lady Rawhide story, so I pushed the timeline ahead a few years, and posited that she had drifted further south, from California into "Old Mexico," and that's where "Sisters of the White Rose" begins. 
Here's the details...
LADY RAWHIDE: SISTERS OF THE WHITE ROSE TPB
Written by: Eric Trautmann
Art by: Milton Estevam, Rey Villegas
Cover by: Joseph Michael Linsner
Lady Rawhide, the masked heroine of the West, returns in an all-new adventure! This time, she faces not only the corrupt forces of the government—bent on cowing the populace through privation and cruelty—but also a new team of vigilantes: The Sisters of the White Rose. The Sisters, inspired by Lady Rawhide's actions, have taken up the struggle against tyranny. Although she supports the Sisters' aims, Lady Rawhide is forced to stand against their bloody methods! Collects issues #1-5 of Lady Rawhide.


Dynamite Entertainment  |  160pgs  |  Color  |  Teen+  |  $19.99US
PREVIEW: