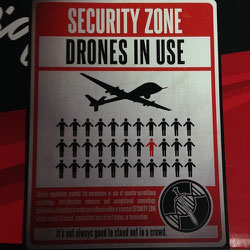 At the recent Rose City Comic Con in Portland, OR, we debuted the first round of "merch" for Lazarus, the dystopian science fiction story written by my friend Greg Rucka, and illustrated by Michael Lark. (And a series to which I contribute various design-y things: the computer interfaces on various screens in panel, layouts for covers, inside front and back covers, in-world "fake ads," and so on.)
I designed a series of prints and stickers, and they were extremely well received. 
There are now two sets of 8.5 x 11, full-color glossy prints (on extremely sturdy paper stock); each set contains three prints—one each representing Family Carlyle, Family HOCK, and Family Armitage. 
There are four sets of stickers, as well—two sets containing simplified versions of the prints, a set that contains three 3.5-inch versions of the Carlyle family crest, and an 8.5 x 11 sticker sheet with 30 stickers—10 each of the Carlyle crest, the HOCK crest, and the graffiti symbol of "The Free," (the underground network bent on bringing down the Families in the comic). 
Greg, Michael and I will have them at conventions if you want to purchase any; if there's enough demand, we'll probably revisit the idea of an online store. 
Here's a peek: 
CLICK TO ENLARGE
---