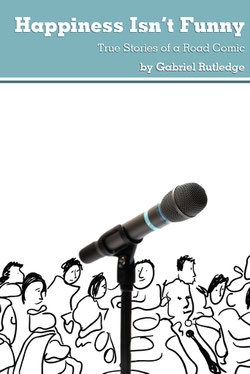 My friend, comedian Gabriel Rutledge, is really, really funny.  So funny that I somehow managed to con him into letting me design his album covers. 
Now, he's written a book—a year (ish)-long journal of his life on the road, and at home. 

It's a terrific piece of work, on a few different levels:
First, it's really funny. 
Second, I'm a sucker for stories about stand-up comedy. I love tales of hell gigs, horrible comedy condos, nasty hecklers, etc. This book has at least two of my favorites. 
Third, it's also a searingly personal story. Gabriel pulls no punches when it comes to discussions of where he's at in his career, and the challenge of trying to pursue that career and support his family. 
So, it's a terrific read. I was happy to help him out with some editing, layout, and design chores, and I really do think the finished product is worth your time. 
The print edition is available on Amazon, and there's also a (criminally under-priced) Kindle edition, as well. 
The print edition is a mere $8.99 (though it is currently on sale), and the Kindle edition is $2.99.
(And you might also want to check out his most recent album, "Breeder," or the prior album, "Sometimes Laughter Hurts," and make sure you tell him the cover art is fantastic.)
Congratulations, Gabe!
---