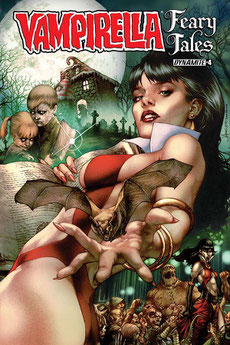 Every time I think I'm out, they pull me back in... 
A few months ago, I was invited to participate in a shared storytelling project, Vampirella: Feary Tales. Spearheaded by current Vampirella writer, Nancy A. Collins, Feary Tales is an anthology series; each issue features two short, sharp stories by various creative teams, all operating from Ms. Collins' central premise—Vampirella is captured inside an enchanted book of fairy tales, and must somehow escape. Each issue contains a fairy tale adaptation/reworking/remix starring our blood-drinking heroine. 
I had a surprising amount of fun—short pieces aren't normally my "thing"—and I think Jay Anacleto's cover is really, really good. 
The issue releases in January, and I do hope you'll give it a shot. 
VAMPIRELLA: FEARY TALES #4 (of 5)
Written by: Nancy A. Collins, Eric Trautmann, Stuart Moore
Art by: Jack Jadson, Mirka Andolfo, Chad Shepherd
Covers by: Jay Anacleto, Art Adams
ON SALE DATE: January 21
In the penultimate issue of the all-star anthology series celebrating the 45th anniversary of Vampirella's creation, every fang-boy's favorite pin-up ghoul is (un)dressed for success in "The Vampire(r)s New Clothes" by Stuart Moore (Firestorm, Namor: The First Mutant). Vampirella then goes on to find herself in a very sticky situation in "Hard By A Great Forest" by Eric Trautmann (Checkmate, Lady Rawhide), while Nancy A. Collins (Swamp Thing, Sunglasses After Dark) has her learning more about her mysterious blonde doppelgänger...
---