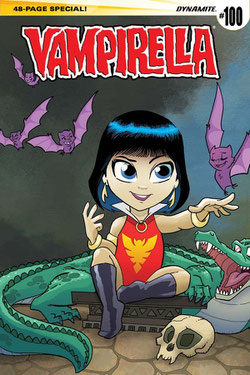 I was also asked to contribute to the upcoming Vampirella #100 giant-sized issue, coming in January. Here's the official info:
"Dynamite Entertainment has announced the January 2015 release of Vampirella #100, a giant-sized spectacular with writers Eric Trautmann, Brandon Jerwa, and Mark Rahner—three writers who have steered Vampirella in recent years—current ongoing series writer Nancy A. Collins and first-time Vampirella writer Tim Seeley.

"Vampirella is a raven-haired heroine who remains, even after 45 years of publication, one of the comic industry's leading ladies, due in no small part to Dynamite Entertainment's stewardship of the character. Since Vampirella's very healthy resurgence in 2010, Dynamite has published two volumes of a monthly series, several miniseries and one-shot specials, and crossovers with multimedia brands and comic book peers. The Vampirella franchise is a haven for writers and artists with a penchant for the macabre.
"In addition to the five writers on the series, the art will be provided by Francesco Mann, Dave Acosta, Eman Casallos, Jim Terry, and Javier Miranda-Garcia. Dynamite will also celebrate Vampirella #100 with a variety of cover options, including a Main cover by Joe Jusko, a Variant cover by Joyce Chin, a "Bombshell" Variant cover by Cedric Poulat, and a "Cute" Subscription cover by Tony Fleecs."
Vampirella #100 will be solicited in the November Previews catalog for release in January.
COVER GALLERY:
---