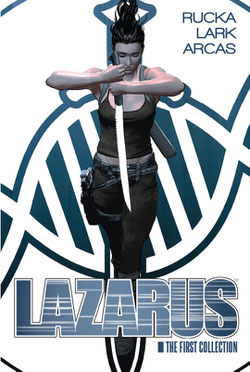 Lazarus: The First Collection—a pretty substantial hardcover volume, collection issues 1–9 of the Rucka/Lark Image Comics series, Lazarus—hits store shelves tomorrow. 

The book includes the first 9 issues (which comprise the "Family" and "Lift" story arcs), plus a short preview comic that originally appeared in Diamond Comics' Previews catalog, as well as roughly 40 pages of bonus material. 

The bonus material includes a never-before-seen geopolitical map of the world of Lazarus, plus complete bios on each of the major "Families" in the setting, a universe timeline, a gallery of the fake adverts I create for the series' back covers, process art from cover artist Owen Freeman, and a ton of previously-unseen artwork for series artist/co-creator Michael Lark. 
I did the layout and graphic design for the volume, and it contains rather a lot of the behind-the-scenes work I do on Lazarus, and I must confess to a fair amount of pride in this edition. 
I hope you'll check it out. 
LAZARUS: THE FIRST COLLECTION Hardcover
Written by: Greg Rucka
Art by: Michael Lark (with Brian Level and Jodi Wynne)
Colors by: Santi Arcas
Cover by: Owen Freeman
This prestige hardcover collects the first two arcs of the critically acclaimed and New York Times bestselling series; "Family," which introduces Forever Carlyle and her Family as they are brought to the brink of war in a future of economic collapse; and "Lift," where Forever uncovers a terrorist plot against her Family while another family altogether, the Barrets, take desperate measures to escape their life of poverty.
PLUS! Never-before-seen work by MICHAEL LARK and graphic designer ERIC TRAUTMANN, and exclusive world-building content. Collects LAZARUS #1-9 with four-page preview and additional content.
ISBN#:   1632151839
ISBN-13: 978-1632151834
Diamond Order Code: SEP140626
Image Comics / 264 pgs / Color / Hardcover / Mature Readers /  $34.99US
Sneak peek "unboxing" gallery:
---