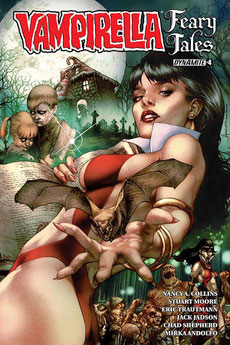 In stores this week: Vampirella Feary Tales #4. 
Feary Tales is an anthology series, in which Vampirella has been magically transported into some kind of cursed tome and is forced to live out various adventures based on classic fairy tales. 

I contributed a short piece, "…Hard By A Great Forest," illustrated by Mirka Andolfo. The issue also contains pieces by veteran comic writer/editor Stuart Moore and current Vampirella series writer, Nancy A. Collins. 
VAMPIRELLA: FEARY TALES #4
Written by: Nancy A. Collins, Stuart Moore, Eric Trautmann
Art by: Jack Jadson, Mirka Andolfo, Chad Shepherd
Cover art by: Jay Anacleto, Arthur Adams, David Roach
In the penultimate issue of the all-star anthology series celebrating the 45th anniversary of Vampirella's creation, every fang-boy's favorite pin-up ghoul is (un)dressed for success in "The Vampire(r)s New Clothes" by Stuart Moore (Firestorm, Namor: The First Mutant). Vampirella then goes on to find herself in a very sticky situation in "Hard By A Great Forest" by Eric Trautmann (Shooters, Red Sonja, Flash Gordon: Zeitgeist), while Nancy A. Collins (Swamp Thing, Sunglasses After Dark) has her learning more about her mysterious blonde doppelganger.

Dynamite Entertainment  |  32pg.  |  Color  |  Teen+  |  $3.99US
COVER GALLERY:
---