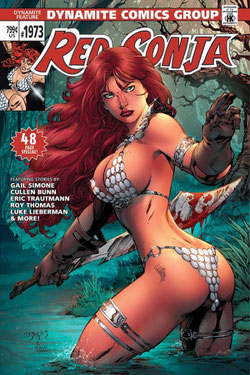 WORK UPDATE:

Red Sonja 1973 is an upcoming Red Sonja anthology featuring stories by Gail Simone, Cullen Bunn, Roy Thomas, Luke Lieberman… and even a tale by yours truly. 
The idea is to write old-school stand alone tales of the She-Devil With A Sword, but I cheated a bit.
My story is a prequel to the piece I did for Red Sonja #100, and there's one last "chapter" of it that leads it directly into the start of my run on the title. They do stand alone, but I couldn't help but provide some connective tissue between them. Hopefully, I'll be able to write that last chapter someday. 
The book is, I believe, scheduled for a July release.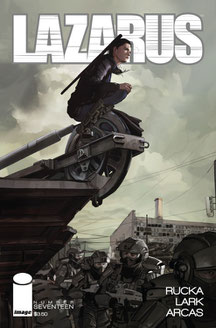 LAZARUS

I also wrapped up my chores on Lazarus #17 a couple weeks ago; this issue looks terrific. 
Readers of the series will be pleased to see the return of Casey Solomon, the introduction of a new military unit within Family Carlyle (the Anvils), and Michael Lark tackling a war comic. 
The conflict between Carlyle and Hock has definitely gotten worse. It'll be interesting / horrifying to watch what war will do to an already terribly dystopian environment. 
CODENAME CONSTABLE
I just started work on another Image project, similar to my work on Lazarus: logo design, typesetting, and so forth. It's not announced yet, so until the creative team announcement, I'll steal a page from Warren Ellis and give it a codename. 
I dunno, let's call it CODENAME CONSTABLE. When there are details I can reveal, I'll definitely be spreading the word. 
It's an interesting project. It doesn't require the kind of world-building I'm typically involved in, but it lets me play in visual styles I don't usually have an opportunity to work in, so that's really, really nice. Can't wait to tell you more. 
FROST UPDATE
When we launched Frost through Monkeybrain/ComiXology, I don't think any of us involved realized the crapshow our lives were about to turn into. For my part, my wife's terrible leg injury and subsequent surgery and painful recovery (timed to coincide with our house flooding to the tune of tens of thousands of dollars) put Frost on hold. I'm currently the delay, but my plan is to finish the last two scripts (about 32 pages of comic) in the next 10 days, give or take. Issue 2 is basically done; we're holding the issues back until we have issues 2-4 DONE and issue five ready for lettering. 
So, it's not dead, and is slowly shambling back to life. 
CHILDREN'S LITERATURE
I totally forgot I contributed a tiny, tiny piece to an upcoming children's book.
I contributed a haiku about a cat, named Haiku, for a book full of haikus about Haiku. So it's basically a Möbius loop of cuteness. Should be out in August. 
So, yeah, I helped with a children's book. 
WHERE I AM ONLINE THESE DAYS
---