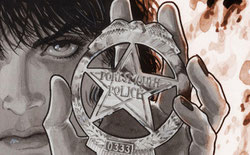 I'm endeavoring to be a little more prolific here, so…UPDATES. 
BLACK MAGICK issue 01 looks amazing. I can't wait until you guys see it. Nicola and Greg definitely bring their A-game to this one. And it even got written up in Entertainment Weekly! 
CODENAME BITE final art just came in. The illustrator is the amazingly talented Brett Weldele (Surrogates, Pariah) and man do these pages look good. Hopefully, I'll be able to talk about it more soon. 
Some new business: CODENAME GLYPH is an interesting design project that just wandered into my inbox, doing some graphic design work for a Super Sekret batch of books Dynamite is cooking up. It's minor work, but looks like it'll be fun and fast. 
More new business: CODENAME GIBSON is some floor plans/schematics for a forthcoming magical cyberpunky roleplaying game supplement from Catalyst Game Labs. Something different, and it's odd to be dipping my toes back into dice-and-paper gaming work. 
Even more new business, and then we're past the "TOP SECRET I CANNA TALK ABOUT IT" stuff: CODENAME BRAND. I've been quietly cleaning up a buddy's old comic (the original publisher did a terrible job with prepress on it), so he can relaunch it via ComiXology. This included a complete, ground-up revamp of the trade dress and layout, and I think it looks damn fine if I do say so myself. 
Okay, so talking about the things I can't talk about: sorted. 
LAZARUS #18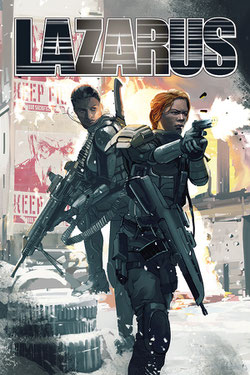 Just got my comp copies of Lazarus #18, which means it is on final approach for stores next week. 
The book has shifted tone a bit—it's still the same lovable grim meathook future dystopia, but now it's also a war comic. Michael Lark's style is so perfectly suited to this kind of story. 
So, here's the details:
LAZARUS #18
Written by: Greg Rucka
Art by: Michael Lark with Tyler Boss
Colors by: Santi Arcas
Letters by: Jodi Wynne
Layout and book design: Eric Trautmann
Cover by: Owen Freeman
"POISON," Part Two.
Hock forces have engaged Carlyle troops on the shores of Lake Superior, and to turn them back Forever must take her place on the front...where the enemy is waiting for her.
IMAGE COMICS  |  Color  |  32pgs.  |  Mature Readers  |  $3.50US
---