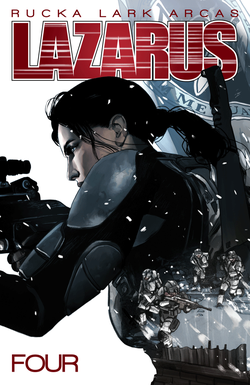 LAZARUS VOLUME 4: POISON TPB
Written by: Greg Rucka
Art by: Michael Lark with Tyler Boss
Colors by: Santi Arcas
Letters by: Jodi Wynne
Cover by: Owen Freeman
Book Design by: Eric Trautmann
Collecting issues 16–21, "Poison," the fourth arc in the critically-acclaimed New York Times best-selling series.
The world is at war, and Family Carlyle must fight to defend itself. With Malcolm Carlyle hovering at death's door, the siblings struggle to maintain control. But deception and war go hand in hand, culminating in a final revelation that will truly change everything for Forever Carlyle.
Image Comics  |  Color  |  Mature Readers  |  Softcover  |  $14.99US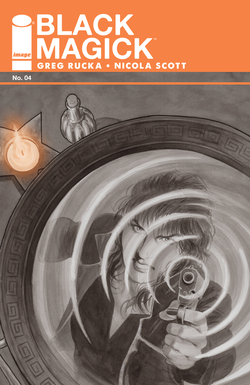 BLACK MAGICK #5
Written by: Greg Rucka
Art by: Nicola Scott w Chiara Arena
Letters by: Jodi Wynne
"A" Cover by: Nicola Scott w Eric Trautmann
"B" Cover by: Ming Doyle
Book Design by: Eric Trautmann
"Awakening" Part Four. A stranger comes to Portsmouth. 
Image Comics  |  Color  |  Mature Readers  |  32 pg.  |  $3.99US
New Fedora Monkey Newsletter out today, too.
The latest newsletter hit the aether today. You can read it here, if you are so inclined, and it would be excellent if you sign up (you can sign up at the link, or via the box in the upper right of this page). 
I talk a bit about upcoming Lazarus and Black Magick stuff, as well as various upcoming project. I also have a long-ish interview with Justin Robinson, who works for Seattle broadcasting notable, B.J. Shea. 
Share and enjoy!
---