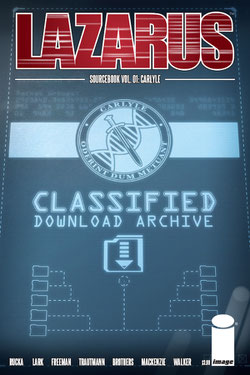 …or more accurately, "The Lazarus Sourcebook, Volume One: CARLYLE."
In many ways, this one is my silly little brainstorm. I grew up loving things like the Official Handbook of the Marvel Universe, and I spent years writing roleplaying game sourcebooks. Granular, behind-the-scenes worldbuilding stuff has always been an interest.
So, when a long-ish hiatus became necessary on Lazarus, I dusted this idea off an re-presented it to Greg, Michael, Image, et al. and here it is—a brief survey of what it's like to live under Carlyle rule, how money and trade works, crime cartels, vehicles and weapons, even bits about music and pop culture amongst the Carlyle Serfs. 
This is probably the most fun job I've had in the last several years. And we've got a fair amount of material already generated for a second volume. 
Now, to convince Greg we need to do one of these for Hock…
THE LAZARUS SOURCEBOOK, VOLUME ONE: CARLYLE
WRITTEN BY: Greg Rucka, David Brothers, Robert Mackenzie, David J. Walker, and Eric Trautmann
ART BY: Michael Lark (with Brian Level, Tyler Boss and Santi Arcas), Owen Freeman
PUBLICATION DESIGN, SCHEMATICS/DIAGRAMS, "ARTIFACT" IMAGES BY: Eric Trautmann
COVER BY: Trautmann/Freeman
Following the revelations of "Poison" and leading into the bloody events of "Cull" with LAZARUS #22 in May, a new look at the world of LAZARUS: What's it like to live life under the Carlyle regime? This is where you find out!
Image Comics  |  32 pages  |  Color  |  Mature |  $3.99US
---