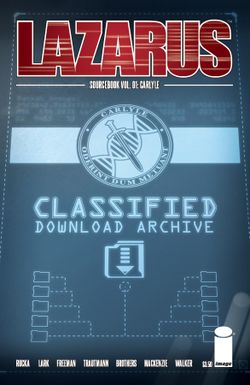 Out tomorrow! 
The Lazarus Sourcebook, Volume 01: Carlyle. 
WRITTEN BY: Greg Rucka, Robert Mackenie, David J. Walker, David Brothers, Eric Trautmann
ART BY: Michael Lark, Owen Freeman
COVER BY: Trautmann/Freeman
BOOK DESIGN: Trautmann
A compendium of insider info on life under Family Carlyle. From bios of key members of the Carlyle Family, to overviews of day-to-day life under their rule—including music, pop culture, military organization, economy and more. 
I grew up loving material like the DC Comics "Who's Who" volumes, the Punisher Armory books, and the Official Handbook of the Marvel Universe. Add to that, roughly a decade of writing roleplaying game sourcebooks, and that's a recipe for this book (the first of, hopefully, a series of similar supplements). 
We do a lot of behind-the-scenes worldbuilding for our own reference on the title, so this is a pretty substantial peek behind the curtain for long-time fans of the series. I'm pretty jazzed about this one. 
Image Comics  |  32 pages  |  Color  |  Mature Readers  |  $3.99USD
---