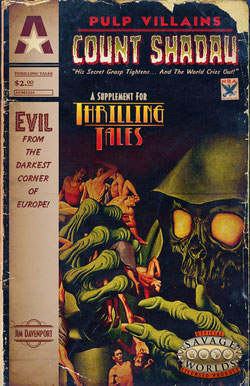 The first of the "new look" books I designed for Adamant Entertainment hits digital "shelves" today. 
PULP VILLAINS: COUNT SHADAU is a short .PDF supplement for Adamant's Thrilling Tales line of pulp adventure gaming.
The Pulp Villains products contain bad guys/gals designed to drop into existing campaigns (or provide concepts suitable for expanding into a longer ongoing game). 
Visit RPGNow to order the PDF for a mere two Yanqui dollars. 
THRILLING TALES: "PULP VILLAINS: COUNT SHADAU"
Adamant Entertainment is pleased to present the latest in our new line of Thrilling Tales products: Pulp Villains!

Each Pulp Villains release will detail a nefarious non-player-character, ready to be dropped into your pulp-genre Savage Worlds game, fully statted, with details on their methods, motives, special gear, henchmen, allies and more—along with a collection of adventure hooks for their use.


In this installment:

 EVIL FROM THE DARKEST CORNER OF EUROPE!
Deep in the heart of Romania, where empires have clashed for ages and many powers have left their traces, a corruption is growing. A master of dark arts and in possession of a relic of stunning power, Count Shadau's web of influence and allies reaches out its tendrils, planning first to seize Romania.
As turmoil and fascist strains slither through Europe, he will take power wherever he can and weave his vision of Greater Romanian domination of the continent under his rule as Emperor. His secret grip tightens... and the world cries out!
Pulp Villains: Count Shadau, by Jim Davenport uses the Savage Worlds rules system, as featured in THRILLING TALES 2nd Edition.
Product Code: ADM3226
Author: Jim Davenport
Price: $2.00 US
PDF only
---