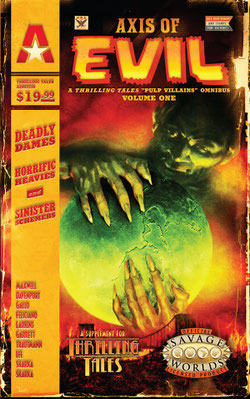 I've been blathering on for a while about the pulp RPG supplements I've been working on for Adamant Entertainment. 
Typically, these are PDF only—we publish through DriveThruRPG/RPGNow—and the system available to us does allow for print-on-demand. 
That said, the individual supplements are designed to be low-cost for the consumer, so they don't run more than 35-40 pages. Meaty pages, but still, not giant mega-sourcebooks. 
This means that the print-on-demand option is not particularly cost effective for the consumer. 
Recently, though, we took a page from the comics biz: we've amassed enough of these supplements to combine into a "trade paperback" of sorts—edited and updated, with some new material into the bargain, and can charge a not-extravagant price for it as a print-on-demand book. (Plus you get the PDF, too.) 
So, I give you, for Thrilling Tales, Second Edition: "Axis of Evil, Volume One," an omnibus of pulp villainy. 
This book contains a heavily updated version of Pulp Villains: Violet, plus:
Pulp Villains: Count Shadau
Pulp Villains: The Yellow King
Pulp Villains: Von Keiner
Pulp Villains: The Subterranean Monarch
Pulp Villains: Baron Korga
Be bad for the holidays, and order a copy from DriveThruRPG or RPGNow! Six villains, twenty bucks. 
HEY KIDS, COMICS!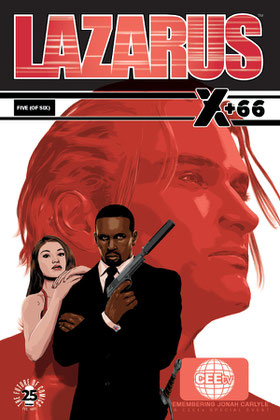 Also out, just in time to celebrate the holidays with tales of a soul-crushing dystopian oligarchy: LAZARUS X +66 #5! This issue, we're joined by the incredible Bilquis Evely (Wonder Woman).
LAZARUS X +66 #5
WRITTEN BY: Greg Rucka & Eric Trautmann
ART BY: Bilquis Evely
COLORS BY: Santiago Arcas
LETTERED BY: Jodi Wynne
Sére Cooper has spent years not only surviving but thriving as she delivers the Family approved news via CEEtv. Now, she's told one truth too many and finds herself sidelined. When a puff-piece story leads to an explosive revelation, she must decide what matters more: the truth or her life.
Image Comics |  Color  |  40pg  |  Mature Readers  | $3.99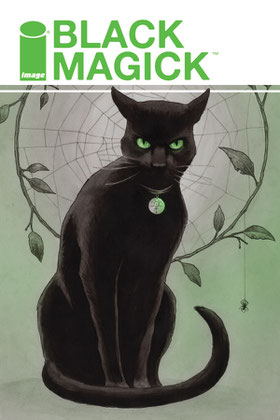 Also available now:
BLACK MAGICK #9
WRITTEN BY: Greg Rucka
ART BY: Nicola Scott w/Chiarra Arena
LETTERS BY: Jodi Wynne 
BOOK DESIGN BY: Eric Trautmann
"Awakenings II," Part Three. The Hammer is in Portsmouth. Alex learns the name of one enemy and the face of another. And Rowan's troubles only grow as both Samhain and the baby come due. 
Image Comics | Color & B/W  | 40 pg.  |  Mature Readers  |  $3.99