It's been a while. 
My apologies. As you'll see, it's been a busy time, prepping material for 2019. 
First up: 
THE WORLD OF LAZARUS ROLEPLAYING GAME
From the fine folks at Green Ronin, The World of Lazarus adapts the setting and characters from the Greg Rucka/Michael Lark Image Comics series Lazarus for use with Green Ronin's Modern Age RPG system.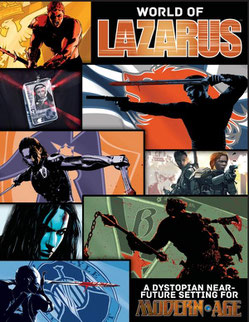 WRITTEN BY: Neal Bailey, Crystal Frasier, Robert Mackenzie, Dave Walker
COVER ART: Michael Lark
INTERIOR ART: Michael Lark, Owen Freeman, Eric Trautmann
CARTOGRAPHY: Eric Trautmann
The World of Lazarus is the first campaign setting for Green Ronin's new Modern AGE RPG. Based on the critically acclaimed Lazarus series by Greg Rucka and Michael Lark and presented by Image Comics, the book brings this noir dystopia to tabletop roleplaying games.
In the near future, time has rendered death obsolete, and life infinitely cheap. In the wake of governments' failure and global upheaval, the Families stepped in and divvied up the world. Now peace and order reign in a world of technological marvels and neo-feudalism. The Families quietly war with one another, wagering the lives of loyal Serfs while they relax in lives of indulgence, all while the Waste—those left behind by this new order—struggle daily for base survival.
Play members of a Family in the highest of high-stakes game, Serfs fighting for their Family's interests to maintain order and safety, or disaffected Waste fighting for a better life in the burned ruins of the old world. The World of Lazarus requires the Modern AGE Basic Rulebook for use.
Green Ronin Games  |  Hardcover  |  Color  | 144 pgs  | $34.95US
SKU: GRR6302
ISBN: 978-1-934547-92-2
ATOMIC ROBO PRESENTS…REAL SCIENCE ADVENTURES: THE NICODEMUS JOB TPB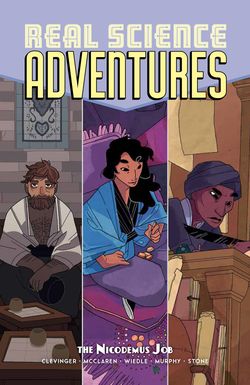 WRITTEN BY: Brian Clevinger
ART BY: Meredith McClaren
COLORS: J.N. Wiedle, Shan Murphy
LETTERS: Tess Stone
PUBLICATION DESIGN: Eric Trautmann
The deepest dive yet into Atomic Robo's history is here!
Constantinople is the setting for the crime of the century. The 11th Century, that is!
On the eve of the First Crusade, the fate of the world rests in the hands of a disgraced soldier, an assassin, an orphan, a scribe, and a thief who have no idea they're pawns in a clash of civilizations. Heretical texts, ancient star maps, sacred geometries, and one impossible heist.
Collects all five issues of the Real Science Adventures: The Nicodemus Job miniseries.
Tesladyne, LLC/IDW  |  Softcover  |  Color  |  136 pgs  |  $17.99US
AVAILABLE MARCH 2019
LAZARUS: RISEN #1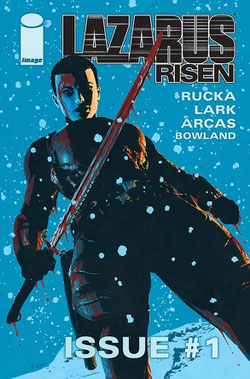 WRITTEN BY: Greg Rucka
ART AND COVER BY: Michael Lark
INKS BY: Lark, with Tyler Boss
COLORS BY: Santi Arcas
LETTERS BY: Simon Bowland
SHORT STORY: Lilah Sturges
PUBLICATION DESIGN AND ADDITIONAL ART: Eric Trautmann (with Richard Howe)
"FRACTURE I," Part One
Lazarus returns in an all-new prestige format! New series, new story arc, new size, and a new quarterly schedule!
Introducing a new ongoing Lazarus series—at 64 pages, perfect bound, Lazarus: Risen continues the story of Forever and the Carlyle Family… featuring an oversized, 44-page story by Eisner winners GREG RUCKA and MICHAEL LARK, an all-new short story exploring the larger world of LAZARUS by Eisner-nominated writer LILAH STURGES, an all-new supplement to the Modern Age: World of Lazarus Roleplaying Game by Green Ronin, original design artifacts and art supplements, and more!
Two years have passed since the Carlyle Family was betrayed in battle, and the Conclave War encroaches on every side. As a new era dawns, Johanna Carlyle goes on the attack to ensure the survival of her Family, relying on the loyalty and support of the Carlyle Lazarus—her sister, Forever—remaining at her side. And while their united front may be enough to turn the tide, the cracks are beginning to show…
IMAGE COMICS  |  Softcover  |  64 Pages  |  $7.99US
AVAILABLE MARCH 2019
BLACK MAGICK: THE FIRST BOOK OF SHADOWS HC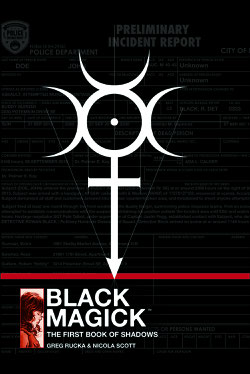 WRITTEN BY: Greg Rucka
ART BY: Nicola Scott
COLORS BY: Chiara Arena
LETTERS BY: Jodi Wynne
COVER AND PUBLICATION DESIGN, DIGITAL "ARTIFACTS": Eric Trautmann
The complete first chapter of the critically acclaimed series from New York Times bestselling creators GREG RUCKA and NICOLA SCOTT, assembled together for the first time!
Rowan Black is awakening to the almost unimaginable power that is her inheritance—a power she neither wants nor is able to refuse. But all power comes at a price, and those who seek to destroy her may not be as dangerous as those who wish to control her.
Yet when one's will can alter reality, the ultimate enemy may be the human heart. Collects BLACK MAGICK #1-11, plus additional content, artifacts, and backmatter designed by ERIC TRAUTMANN.
Image Comics  |  Hardcover  |  328 pgs  |  B&W and Color  |  $34.99US
AVAILABLE MAY 2019
---