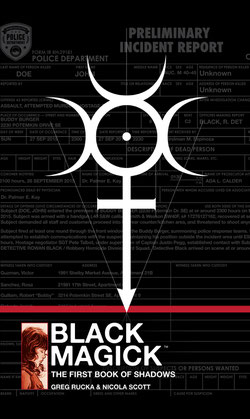 WRITTEN BY: Greg Rucka
ART BY: Nicola Scott
COLORS/TONES BY: Chiara Arena
LETTERS BY: Jodi Wynne
BOOK DESIGN BY: Eric Trautmann
The complete first chapter of the critically acclaimed series from New York Times bestselling creators GREG RUCKA and NICOLA SCOTT, assembled together for the first time! Rowan Black is awakening to the almost unimaginable power that is her inheritance—a power she neither wants nor is able to refuse. But all power comes at a price, and those who seek to destroy her may not be as dangerous as those who wish to control her. Yet when one's will can alter reality, the ultimate enemy may be the human heart.
Collects BLACK MAGICK #1-11, plus additional content, artifacts, and backmatter designed by ERIC TRAUTMANN.
Image Comics  |  Hardcover  |  Color & B&W  |  296 pages  |  Mature  |  $34.99
I'm very proud of this one. It's a lovely package: matte finish cover with spot gloss, red tail bands and endpapers, a bound-in bookmark ribbon, and almost FIFTY PAGES of bonus material—interviews, sketchbooks, script-to-page process, prose fiction, and some other fun bits (like the "Preliminary Incident Report" ghosted into the background of the front cover; a careful read shows it's the summary of the events of the first issue).
It is rather a hefty tome that honestly should cost closer to $45 or $50, and I hope you check it out.