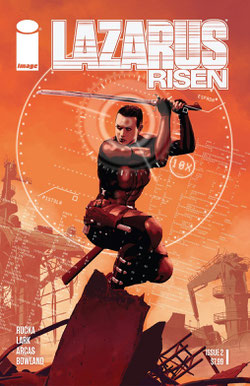 WRITTEN BY: Greg Rucka; additional material by Crystal Frasier and new prose fiction by Adam Christopher (Empire State, the Stranger Things novel, Darkness at the Edge of Town, The Ray Electromatic Mysteries).
ART BY: Michael Lark (with Tyler Boss)
COVER BY: Michael Lark (with Eric Trautmann)
COLORS BY: Santi Arcas
LETTERS BY: Jodi Wynne
BOOK DESIGN: Eric Trautmann
ARTIFACT DESIGN: Richard Howe
The alliance between Carlyle and D'Souza is nothing more than a trap—and now Forever must face not one, but two Lazari in a desperate battle to the death. And at Sequoia, Marisol finds herself following Eight's footsteps into a snowy night. The secrets are beginning to take their toll, and when they come out, the results will be shattering. All this, plus artifacts from the firm of Trautmann and Howe, another installment of World of Lazarus: Tools of War, and original short fiction by award-winning author ADAM CHRISTOPHER.
IMAGE COMICS  | COLOR |  64 PAGES |  MATURE READERS |  $7.99US
---