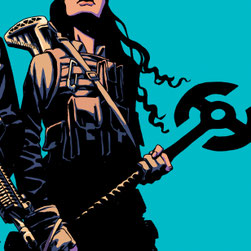 It's been…a heck of a long time since I updated here. Yikes.
So, some general housekeeping—all the Comics Design Work stuff has been updated to include an entire second series of The Old Guard, and a bunch of Atomic Robo projects.
Next week (I think? Here in The Time Of COVID, my sense of what day it is has become wonky) a new issue of Black Magick hits, and we're back off to the races on that series.
A new issue of Lazarus: Risen is also nearing completion though various delays due to. ::gestures at mad, mad world outside the door:: have moved us a little off our original schedule. It shouldn't be by much, though.
So. The Old Guard. My friend made a movie!
Based on Greg Rucka's excellent adventure comic series -- centered on a group of centuries-old nigh-immortal warriors who have to come to grips with the modern surveillance state, old sins, new enemies, and a brand-new soldier in their ranks -- Netflix released the film version on 10 July. It has received generally strong reviews and it is, in my biased opinion, a hell of a fun movie.
If you haven't seen it, I encourage you to fire it up. Charlize Theron, Kiki Layne, Chiwetel Ejiofor topline a superb cast.
It also features my "design cameo," which tickles me no end.
At one point during post-production, Greg called me up and asked me if I had a spare sniper scope reticle they could use for the production, because they hadn't settled on one they liked yet.
(Why on earth would he think I have a bunch of gunsights of various kinds lying around? How very odd!)
Nothing I had "lying around" seemed right, so I made one (derived from a couple different types of old Soviet and European types), and sent it off, to the apparent delight of Greg and the production. I really didn't expect it to be in the movie, figuring they'd end up replacing it with something cool and animated, but it was fun nonetheless.
Turns out they liked it—it's in the movie!
I'll try to be better about updating here. There's a bunch of fun stuff in the works—a long-dormant RPG project is off to the printery for a proof; a new comics project (one I'm writing) is working it's way through the publisher, with a couple other new comics writing and design projects in their infancy; and some vector art sets are also in development (mystical/magical in theme instead of my normal interfaces and reticles). So, more to come.
Be safe out there. Wear your mask. Listen to science. Stay healthy and stick around.
---