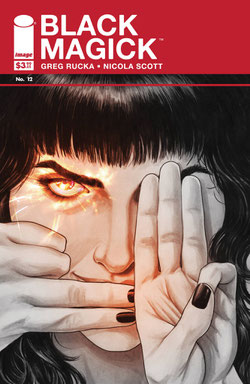 Written by: Greg Rucka
Art by: Nicola Scott (with Chiara Arena)
Letters by: Jodi Wynne
Cover by: Nicola Scott (w Eric Trautmann)
Publication Design by: Eric Trautmann   
"Ascention I," Part One
The acclaimed series returns, from the New York Times bestselling team GREG RUCKA (THE OLD GUARD) and NICOLA SCOTT (Wonder Woman).
Rowan Black is a cop. Rowan Black is also a witch. Throughout her life, she has struggled to keep these things separate. Now, the walls are beginning to crumble, and Rowan—alienated from her friends, under investigation on the job, and stalked by mysterious forces who are literally hell-bent on using Rowan's power for their own benefit—is on the verge of crumbling with them.
And if these combined forces don't manage to destroy Rowan—she might just destroy herself first.
Image Comics  |  Color  |  32pg  |  Mature  |  $3.99US
---