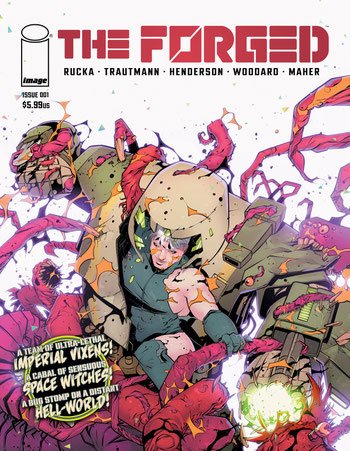 Wednesday, March 15th 2023: THE FORGED #1 arrived in stores! (Well, apparently not all stores courtesy of a weather delay of the comics delivery out here on the West Coast, sigh).
To celebrate, the co-creators of the property—co-writer Greg Rucka an artist Mike Henderson—joined me at Olympic Cards and Comics in Lacey, Wa. We signed books, chatted, answered questions, and hung out with fans for the afternoon, and a lovely time was had.
Also not shabby: we sold out of the entire supply of THE FORGED on hand at the store PLUS a few dozen additional copies supplied by the creative team's comp copies, and it seems that the entire print run was a day one sellout!
Lots of good reviews online, too!
Thank you to Gabi—my lovely wife, and owner of Olympic Cards and Comics—and out fine staff for putting on a lovely event, and also to everyone who came out to enjoy the day, and folks who couldn't be there in person but reached out with well-wishes. We had a terrific time.
---