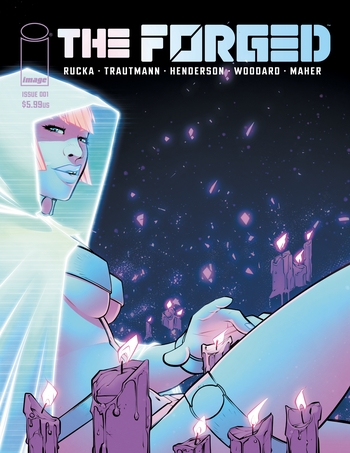 From Image Comics:
PORTLAND, Ore. 03/23/2023 — New hit The Forged by multiple Eisner, Harvey, and GLAAD Award winning co-writer Greg Rucka (The Old Guard, Stumptown), co-writer Eric Trautmann (The Old Guard: Tales Through Time) and bestselling artist Mike Henderson (Nailbiter) has sold out completely at the distributor level. The Forged #1 is being fast-tracked for a reprint in order to keep up with increasing demand.

Early buzz for the series rolled in as ComicBook.com declared, "this creative team has made a genre-spanning smash" while AIPT hailed the series as "a love letter to everything sci-fi from Star Wars to Warhammer 40K" and Comic Watch described it as, "filled with interesting characters, six-packs, eyeball-popping visuals, and glorious science fiction on a marvelously grandiose scale."

"Look, I'm trying to come up with something witty and clever and funny to say, but honestly all I've got right now is delight," said Rucka. "We've been waiting to share this book with people for so long, to let folks in on the fun we've all been having. You put a book out into the world, something you've worked on and lived with for so long, and you get tunnel vision. To see Mike's art—especially—get this kind of reception is more than we could've hoped for."

Henderson added: "Having worked on this for so long in something of a vacuum, for Greg, Eric and me to see people react so positively and have even a fraction of the FUN reading it that we've had making it, has been pretty overwhelming. Everyone on this team put their backs into The Forged and we're just getting started."

In the 11th Millennium of the rule of the Eternal Empress, a squad of planet-smashing super soldiers find their routine mission to be anything but. These are the Forged. They take no prisoners. Embark upon an over-the-top pulp adventure of sex, violence, and sci-fi inspired by Conan, Heavy Metal, and other comics you tried to hide from your parents.

The Forged #1, second printing (Diamond Code FEB238279) and The Forged #2 (Diamond Code FEB230174) will both be available at comic book shops on Wednesday, April 19.

The Forged will also be available across many digital platforms, including Amazon Kindle, Apple Books, and Google Play.
---