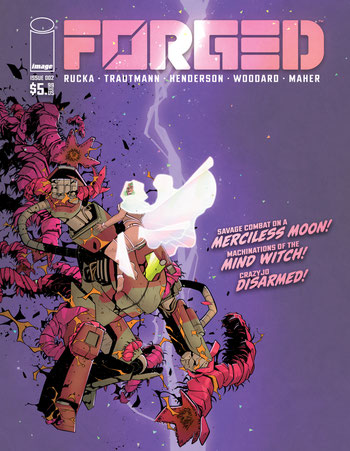 Written by: Greg Rucka and Eric Trautmann
Art: Mike Henderson
Cover: Mike Henderson (w Nolan Woodard)
Colors: Nolan Woodard
Letters: Ariana Maher
Editing: Alejandro Arbona
Layout, Logo, and Design: Trautmann
The Forged are trapped on the hellscape of Gehenna where the locals are very hungry. CrazyJo loses an arm.
Again.
Image Comics |  64 pg.  |  Magazine Sized. |. Color  |  $5.99US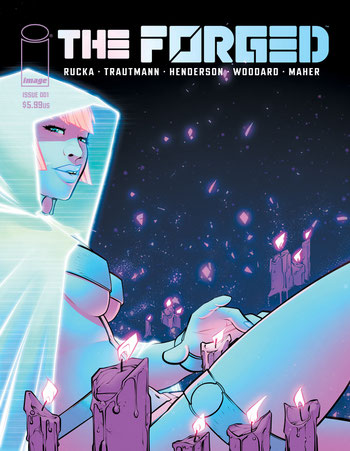 PLUS:
A second printing of THE FORGED #1, featuring a stunning new cover, will also be on sale tomorrow (April 19th, 2023).
Written by: Greg Rucka and Eric Trautmann
Art: Mike Henderson
Cover: Mike Henderson (w Nolan Woodard)
Colors: Nolan Woodard
Letters: Ariana Maher
Editing: Alejandro Arbona
Layout, Logo, and Design: Trautmann
In the 11th Millennium of the rule of the Eternal Empress, a squad of planet-smashing super soldiers find their routine mission to be anything but. These are the Forged. They take no prisoners.
Written by GREG RUCKA (Lazarus, Black Magick, The Old Guard) & ERIC TRAUTMANN (Lazarus X +66, The Old Guard: Tales Through Time) and brought to the page by MIKE HENDERSON (Nailbiter) , embark upon an over-the-top pulp adventure of sex, violence, and sci-fi inspired by Conan, Heavy Metal, and other comics you tried to hide from your parents.
Image Comics |  64 pg.  |  Magazine Sized. |. Color  |  $5.99US
COMIC SHOP SIGNING: PORTLAND, OR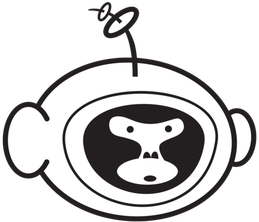 Also, Eric, Greg, and Mike will be at COSMIC MONKEY COMICS (5335 NE Sandy BLVD, Portland, OR 97213) from 4pm until 6pm on Wednesday, April 19th, for signing, chatting, and generally being grateful to readers. If you're in the area, please stop by!
---