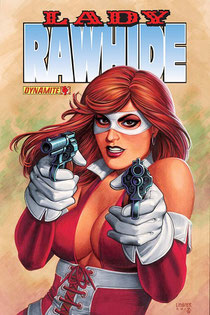 The fourth issue of Lady Rawhide: Sisters of the White Rose hits stores today; four down, one to go. 
Here's the details (and a short preview)...
LADY RAWHIDE: SISTERS OF THE WHITE ROSE #4 (of 5)
Written by: Eric Trautmann
Art by: Milton Estevam and Rey Villegas
Cover by: Joseph Michael Linsner
Lady Rawhide faces off against Adelina, leader of the Sisters of the White Rose. But all around them, forces loyal to the corrupt governor draw nearer, bent on killing everyone who stands against them. New alliances are formed, secrets revealed, and the final battle against oppression is about to begin...
Dynamite Entertainment  |  32pg  |  Color  |  Teen+  |  $3.99US
Cover art and preview gallery: